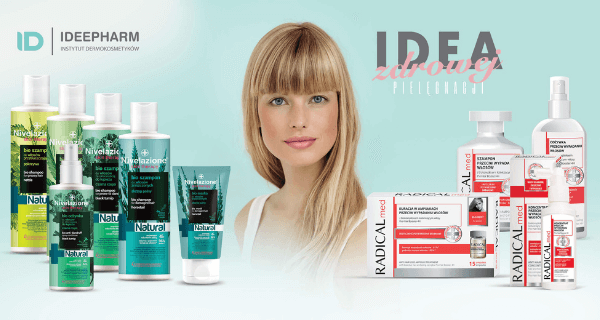 Prawidłowa pielęgnacja skóry głowy i włosów – naturalnie i skutecznie
Prawidłowa pielęgnacja skóry głowy i włosów – naturalnie i skutecznie
Mikrobiom skóry nie jest pojęciem nowym, choć dopiero ostatnio bardzo dużo się o nim mówi. Po raz pierwszy użyto terminu "mikrobiom" kilkadziesiąt lat temu, do niedawna jednak mówiło się o nim głównie w kontekście flory bakteryjnej jelit. Dzięki licznym badaniom wiadomo, że każdy dorosły człowiek nosi w sobie dwa kilogramy bakterii. Mikrobiom skóry to mikroflora skórna, czyli mikroorganizmy, które na niej bytują. Prawidłowy skład mikrobiomu gwarantuje, że skóra będzie zdrowa, nieprawidłowy – że jej kondycja będzie słaba. Aby zadbać o mikrobiom, należy uważnie dobierać kosmetyki, których się używa. Takie czynniki jak stres, zanieczyszczenie środowiska, brak odpowiedniej ochrony przed promieniowaniem UV, ale również zmiany hormonalne, które zachodzą u kobiety w trakcie ciąży, wpływają na zaburzenie równowagi naturalnego mikrobiomu. Dlatego w pierwszej kolejności powinnyśmy zadbać o prawidłowe odbudowanie naszej naturalnej flory bakteryjnej skóry głowy, używając specjalnie do tego przeznaczonych preparatów kosmetycznych.
Nivelazione skin therapy Natural to pierwsza na rynku polskim linia dermokosmetyków, która wspomaga naturalny mikrobiom. Zawarty w preparatach kompleks synbiotyczny Lactobacillus Ferment oraz inulina i gluko-oligosacharydy wpływają na prawidłowe funkcjonowania skóry głowy. Utrzymując mikrobiom w równowadze, przyczyniamy się do odbudowy bariery ochronnej skóry głowy, dzięki czemu staje się ona mniej podatna na przesuszenie, powstawanie podrażnień, świąd i uciążliwe pieczenie "mikroranki" spowodowane ciągłym drapaniem, występowanie łupieżu, pojawienie się na skórze grudek i krostek.
W kolejnym kroku – jeśli zauważamy jeszcze osłabienie struktury włosów i ich wypadanie – dobrze jest włączyć do rytuałów pielęgnacyjnych specjalistyczne kosmetyki, które sprawią, że ilość włosów pozostawionych na szczotce zostanie zminimalizowana. Do codziennej pielęgnacji stosuj specjalistyczny szampon i odżywkę bogate w substancje aktywne o udowodnionym działaniu, które przede wszystkim eliminują główne przyczyny wypadania włosów. W zależności od preferencji możesz stosować odżywkę bez spłukiwania lub do spłukiwania – wskazane jest stosowanie tych dwóch produktów na zmianę, aby nie przyzwyczajać włosów do jednego kosmetyku. Przy nasilającym się problemie dodatkowo warto zastosować dłuższą kurację preparatami skoncentrowanymi w postaci płynu do wcierania w skórę głowy lub w postaci ampułek do nanoszenia na skórę głowy i włosy. Taka kuracja powinna trwać minimum 1-2 miesiące lub do momentu zauważalnej poprawy. Na rynku mamy wiele preparatów przeciwdziałających wypadaniu włosów. Wybierając odpowiednią dla siebie kurację, wybieraj specjalistyczne kosmetyki gwarantujące poniższe efekty:
• zmniejszenie wypadania włosów przy jednoczesnym ich pogrubieniu i wzmocnieniu,
• działanie na całej powierzchni włosa, docierające do cebulek,
• przywrócenie pożądanej grubości, gęstości i objętości włosów.
Seria specjalistycznych kosmetyków RADICAL med przeznaczona jest dla osób zmagających się z problemem wypadania włosów.
________
Jowita Moń
Senior Brand Manager
Instytut Dermokosmetyków IDEEPHARM